It's time for more type talk! Our last Typography 101 blog taught you all about sans serifs and now we're getting fancy with scripts. Script typefaces come in a wide variety of styles and are always fun to play around with. From wedding invitations to formal documents you'll always find a place for script.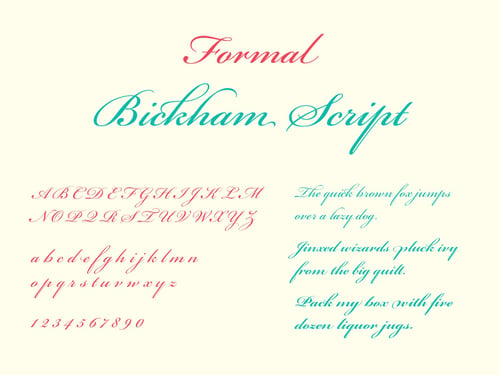 First we have the most traditional and recognizable script style, commonly referred to as formal. Formal script typefaces are derived from writing styles of the 17th and 18th centuries. Most have strokes connecting one letter to the next and have elegant alternate swash options.
Bickham Script was created in 1997 by calligrapher Richard Lipton. He was inspired after studying The Universal Penman by George Bickham, an accomplished engraver from the early 1700's. Bickham's book combined the work of twenty five calligraphers into a collection that showcases the best work of the time. Lipton was inspired by the drama of Bickham's lettering and his typeface contains a wide array of combination of letter and symbol variations based on the context and location of each letter.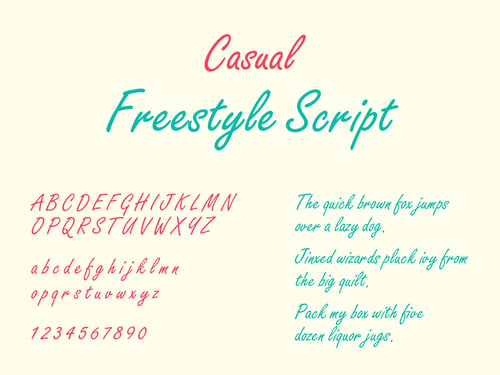 Casual scripts were developed in the 20th century as a result of photo-typesetting. They are characterized by an informal appearance and most are designed to look like handwriting. Casual script is one of the most broad typography classifications, the strokes used in these typefaces vary from brush strokes to ink pens.
Freestyle Script was designed in 1981 by English lettering artist Martin Wait. A bolder version of the typeface was also released in 1986. Wait, who is both colorblind and dyslexic, has had an interesting career as a type designer. After an initial type sketch he created for Letraset type foundry was rejected, he received a lot of interest in his hand lettering work. Since then he has designed numerous typefaces, many of which are scripts. Freestyle Script is one of his most popular designs. It features extensive lower case ligatures and a fluid, brush-rendered effect.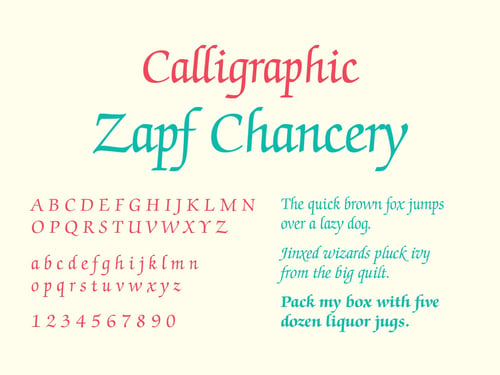 Calligraphic scripts mimic calligraphic writing. They can be connecting or non-connecting in design. Their appearance is base on the look of being written with a flat-tipped writing instrument.
Zapf Chancery was created in 1979 by accomplished German type designer Hermann Zapf. Zapf began teaching himself calligraphy in the mid 1930's and went on to become one of the most significant typography designers of the 20th century. Zapf Chancery was designed based on the style of chancery writing, originally developed in the Italian Renaissance and used by the scribes in the papal offices. Other notable fonts created by Hermann Zapf include Palatino, Optima and Zapfino.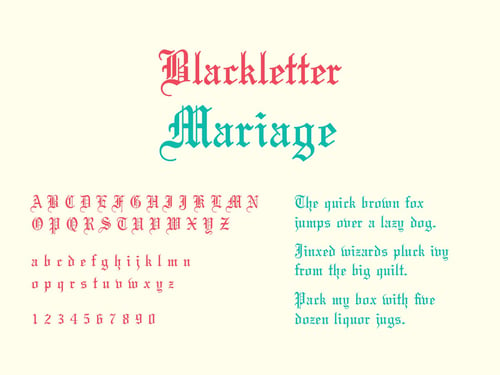 Blackletter typefaces are patterned on manuscript lettering prior to the invention of movable type. Sometimes referred to as Gothic or Old English, they are characterized by a dense texture and highly decorated caps.
Mariage was designed in 1901 by Morris Fuller Benton. He was one of America's most successful type designers, creating over 200 different typefaces in his lifetime. Benton's father, invented the pantographic engraving machine in the 1880's. His invention could scale a single font to a variety of sizes as well as condense, extend, and slant the design. This process was the precursor to the geometric operation of most systems of digital typography today.
We hope you've learned some fun facts about script type today. What's your favorite script to design with? Check out more of our typography themed blog posts below.