There are few things more important in the professional world than having an amazing business card. Business cards are the pathway for making important connections, spreading your name, and giving potential clients, partners, or workspaces an easy way to reach you and your services. Your business card needs to stand out against your competitors and TPI Solutions Ink is here to help not only with the printing, but with the design as well!
SIZE
First things first, let's talk about size.
The standard business card size is 3.5 inches x 2 inches. This size is the perfect for fitting into wallets and allows you to have quite a bit of information on it without your card becoming a mini resume. You can have a horizontal design, or switch it up with a vertical one! The base is simple, but the possibilities are endless!
TIP: Indesign even has a standard business card template!
But what about different sizes? Not feeling the standard business card shape? Well there are lots of different options and here at TPI we pride ourselves in our flexibility to meet your needs! But, there are some important things to consider when choosing a unique size for your business card.
Will it be a custom, die cut shape? What about a square? Or a long rectangle? While having a different sized business card may separate you from your competitors, you have to think about how the person receiving your card is going to interact with it. Will it fit in a wallet? Is it so small that it's going to be easy to lose or is it so big that it's hard to carry around? Think of your business card in relation to the space it's going to exist in!
PAPER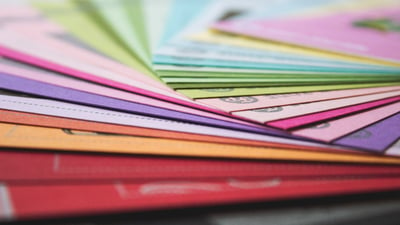 Now that you've picked a size, let's cover paper!
Paper is one of the most important parts of a successful business card. You want your business card to feel important! A thin, flimsy paper stock is definitely out of the question, thankfully we have a wide variety of stocks to choose from. Some examples include metallic paper, linen paper, and vinyl. The paper stock of your business card is key to having someone keep it. Business cards are physical, unlike a website or an email, thus you want to make a strong impression with the right paper!
Not only do you need to pick the perfect stock for you business card, you also need to think about what kind of finish you would like on it. For the finishes there are coated and uncoated, both are fantastic options but here are some key differences:
Coated Papers: Provide excellent color, smoothness, opacity and print definition. Coated papers come in a variety of finishes, the two most common being glossy and matte. Glossy paper reflects light creating a shiny appearance. Matte paper absorbs light creating a non-reflective surface that is easier to read. Coated papers can usually stand up to more physical handling as well.
Uncoated Papers: Come in a variety of textures and finishes that provide a classic and tactile experience. They have a more natural look and uncoated papers can have a smooth finish or one that's more textural like linen and felt.
For more information on different stocks, check out our other blog post:
Paper Choices for Printing: Which Substrate is Right for You
Don't forget the finishing touches! Want to add an extra layer of protection for your cards? UV coating is a great add on. Available in both matte and gloss, this extra coating provides a solid layer that will prevent any ink from smudging off your cards, even after taking it in and out of a wallet over and over. Another great finishing touch is rounded corners. Round all four corners, or just one or two of them, we've seen some great designs that use this finishing option.
COLOR
Moving on, let's talk about color, another key component of your business card. You may be thinking that printing a simple, black and white business card is going to get the job done, but color is really what will make you stand out. A full color, eye-catching business card is going to make people pick yours up, where they will appreciate your fantastic choice in paper stock, and keep it for future reference.
DESIGN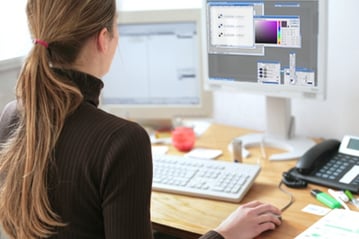 Now that we've gone over all the basics of creating a business card, it's time to talk about how to pull all these elements together: the design. The design of your business card will set you apart from your competitors and here at
TPI we can help you design an amazing business card to represent yourself. If you're taking care of the design yourself, then here are some tips to keep in mind:
Double Sided or Single Sided:
Does your business card need two sides? The answer is yes! A single sided business card can become very cluttered considering you need to fit your name, contact information, web address, company information, and logo all on one side. A double sided business card gives you plenty of space to have all of your information in a well designed format while keeping it easy to read! With a double sided business card the possibilities are endless! You can have company information on one side, personal information on the other. You can showcase your artwork on one side and keep all your information on the other side. You can even just have your logo standing proud on one side and everything else on the second side.
Typefaces:
Don't use too many typefaces, it can be distracting and take away from your design.
A good formula is one Serif typeface and one Sans Serif typeface.
Serif: A typeface that has serifs, or a slight projection finishing off a stroke of a letter.






Sans Serif: A typeface that does not have serifs.

Type Size:
Be careful about type size. Type size can vary depending on the typeface you are working with, but try to go no smaller than 8pt. You want people to be able to read your information easily, and if you're trying to fit too much type on one side of a business card consider a double sided business card, this way you will be able to showcase all your information, but in a reader friendly format.
Spacing:
Leave space around the edges. Don't put type, logos, or graphics (that are not meant to have a bleed) too close to the edges. Give your elements some breathing room!
Color:
Make use of color! Instead of black type on a white background, try colored type! Or even try white type on a colored background!
The possibilities of a business card are endless but in the end your business card is a representation of yourself and TPI Solutions Ink is here to help you put your best foot forward. Have a great idea for a business card? Get in touch with us today to make it happen.