Invitations are a wedding essential, but what about all the other printed pieces needed for your special day? At TPI Solutions Ink, not only can we provide you with custom, beautifully designed invitations, RSVP cards, and envelopes, we can also take care of any of your printing needs for the wedding day.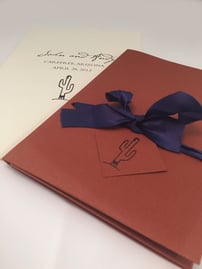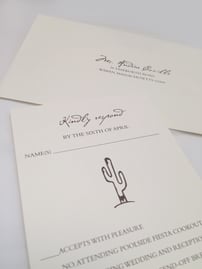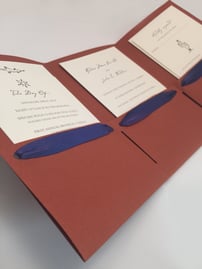 For the Ceremony:
Programs: A wedding essential! Programs not only outline the day of the wedding to keep everyone on track, but they also serve as a small keepsake to help you remember your special day. There are many different options for wedding programs including booklets, fans, folded, and flat designs. We can help you decide the best option to fit your needs.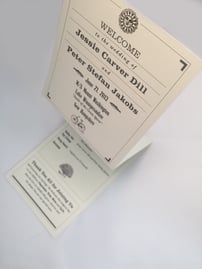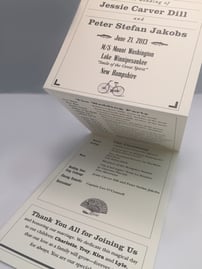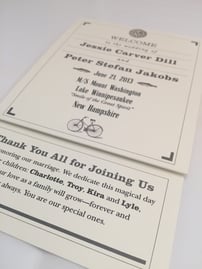 For the Table:
Escort Cards, Name Tags & Table Numbers: Let your guests know exactly where they're going to sit, whether it be in a simple folded design, or a custom die cut shape. We've seen some really creative table number designs, let your imagination run wild.
Menus: Showcase the tasty treats you have in store for your guests with a custom designed and printed wedding menu. How are you presenting your menu? Is each person getting their own? Are they a flat design or a folded design? What about a place mat menu?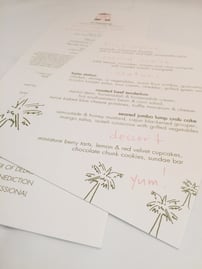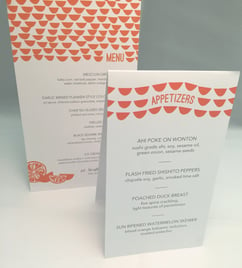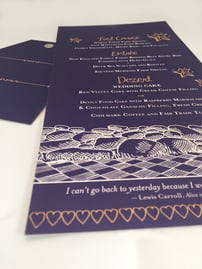 Napkins: Do you have a special monogram for you and your partner? Maybe you have a saying or a hashtag you want your guests to use on social media to share your special day. Custom printed napkins are the perfect way to show it off!
Guest Books: A custom guest book is a fun way to memorialize your wedding for years to come. A common trend we've seen lately is a guest book poster. We'll print a design that matches your wedding theme for guests to sign and then you can have it framed to hang somewhere special.
For the Party Favors:
How are you presenting your party favors? We can help you decorate with custom designed favor tags, belly bands, labels, or even wrapping paper. We can also create custom packaging for your party favor, design, print and all!
Thank You Cards:
Thank you cards are probably the last thing on you mind in the midst of your special day, but they're also an important piece in wrapping up your wedding planning. We can make thanking your guests easy by printing your thank you cards and matching envelopes. Save your hand from writing out hundreds of names and addresses with our options for printing with variable data. Let us know everyone you need to send a card to and we can print it right on the envelope and even mail them for you!
At TPI Solutions Ink, we can work with you one on one for a truly magical wedding experience!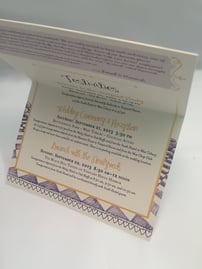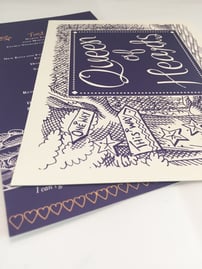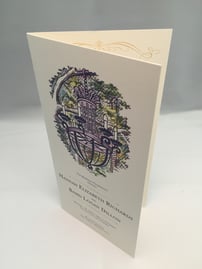 We can help you create a custom, cohesive set of printed materials that match your special day perfectly! Show us your inspiration, we can take what you like and create a design identity just for you. Check out our other wedding themed blogs for some more wedding printing inspiration and to see what else we have to offer:
Wedding Printing FAQ's: Inquiring Brides Want to Know