After over a year of work , our stop motion film is ready! It's called A Sea of Solutions, and we couldn't be more pleased with the outcome. Have you ever wondered how stop motion animation is created? Read on for a full explanation of how we pulled off this video, from initial brainstorming to story boarding and production.
Stop Motion Animation: an animation created by taking individual photos of physical objects that are moved in between each photo.
To create a stop motion animation the object is moved a tiny bit, a photo is taken, the object is moved another tiny bit, a photo is taken, and so on and so forth. The photos are then strung together to create the illusion of movement!
With that in mind, let's talk FPS or frames per second.
Frames Per Second: the amount of frames, or photos in this case, that make up a single second of animation.
A Sea of Solutions was created at 15 FPS meaning a single second of animation took at least 15 photos. For an animation lasting a full minute, that adds up to at least 900 photos!
15 Frames Per Second x 60 Seconds Per Minute
= 900 Photos Per Minute!
Now, with a rough idea on how stop motion animation is created, let's get to the process behind A Sea of Solutions.
To start, we needed to decide what kind of stop motion animation we wanted to create. Should we make a claymation using characters made of clay like Wallace and Gromit? Or, do we want to build a set and make puppets as in the film Coraline? We wanted to use materials that relate to our business and since TPI Solutions Ink is a printing company, we decided that the it would be the perfect opportunity to create a cutout animation! A cutout animation is created by using puppets made out of paper and is typically done on a flat surface.
Now it was time to figure out what this animation was going to showcase. After some discussion, we decided that it would be a good idea to highlight what TPI Solutions Ink is all about and how we can help you find the solutions to all your printing and graphic design needs. Once we had outlined a script it was time for a storyboard!
A storyboard outlines the basic concept, key points, and flow of a animation. On a storyboard, you discuss how a scene will play out. Will the character come in from the left or right? How will the scene change occur? Will a new background slide in? Are we changing the angle of the camera? All these questions and concerns are discussed when making the storyboard so when you go to create your animation, you know exactly what to do.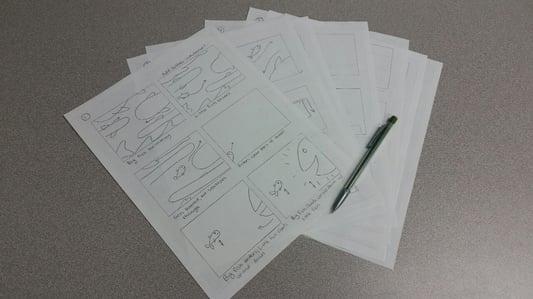 Now that we had all the essentials, it was time to get to my favorite part: the construction. With my trusty X-Acto knife and glue gun, I got to work. I needed to think of how my characters were going to fit in the camera shot. I had to make sure that they weren't too big, otherwise they might not fit in the frame. I also needed to make sure each puppet's size made sense in comparison to one another, so I created some mock–up puppets to test the sizes, expressions, and colors. To give my cutouts some additional mobility, I gave them a wire frame so I could move the fins of the fish or open and close the books.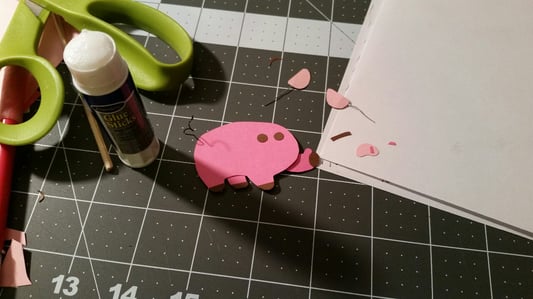 My mock–up puppets allowed me to create some test animations to figure out how cutout animation works and what problems I might run into. First, I noticed that it was very easy to move the puppet too much or accidentally shift it if I hit the table. My solution was to add small magnets to the backs of each puppet so they would stick to my stage, which was a small magnetic whiteboard. After I had created all my puppets, it was time to film!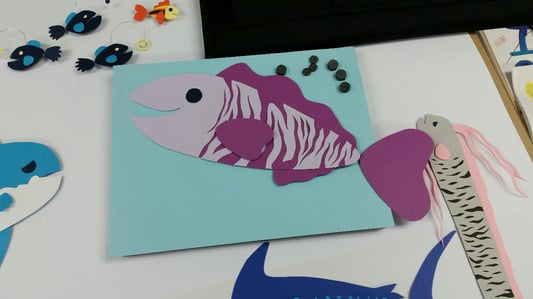 I set up my stage, lined my camera up, positioned my lights perfectly, and got to work. For this animation, I wasn't using any programs to assist me in taking photos or viewing my shots, so each movement I made and photo I took was based purely on gut instinct. I wouldn't know what a shot looked like until I uploaded it to my computer and strung the photos together with a program called iStopMotion. Once I took a closer look at all of the shots, there were some scenes I had to do over to get them perfect. After a year of hard work, over 3,000 photos, and way too many cups of coffee, I finished the filming of A Sea Of Solutions!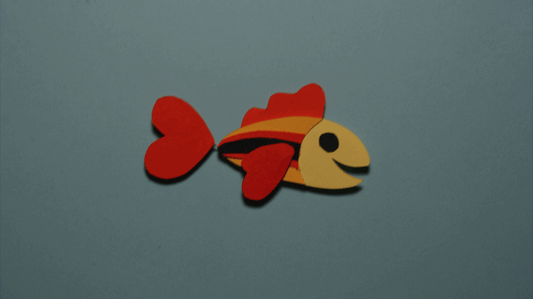 Now to the editing. After stringing all my photos together into animations using iStopMotion, it was time to bring everything together in Adobe Premiere Pro. Here I pieced together all the shots of my animation, played with the arrangements of scenes, and created the first version of A Sea Of Solutions. After watching it over a few times, we decided to change some scenes in order to convey our message more clearly, so I was back into filming for a little bit.
Here's an example: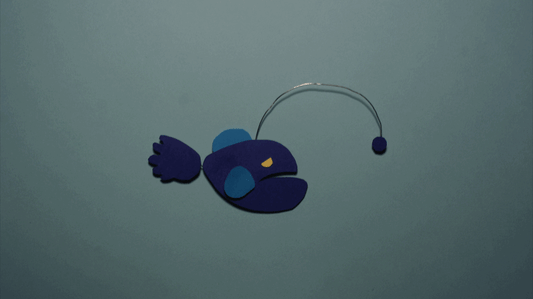 This was the first shot!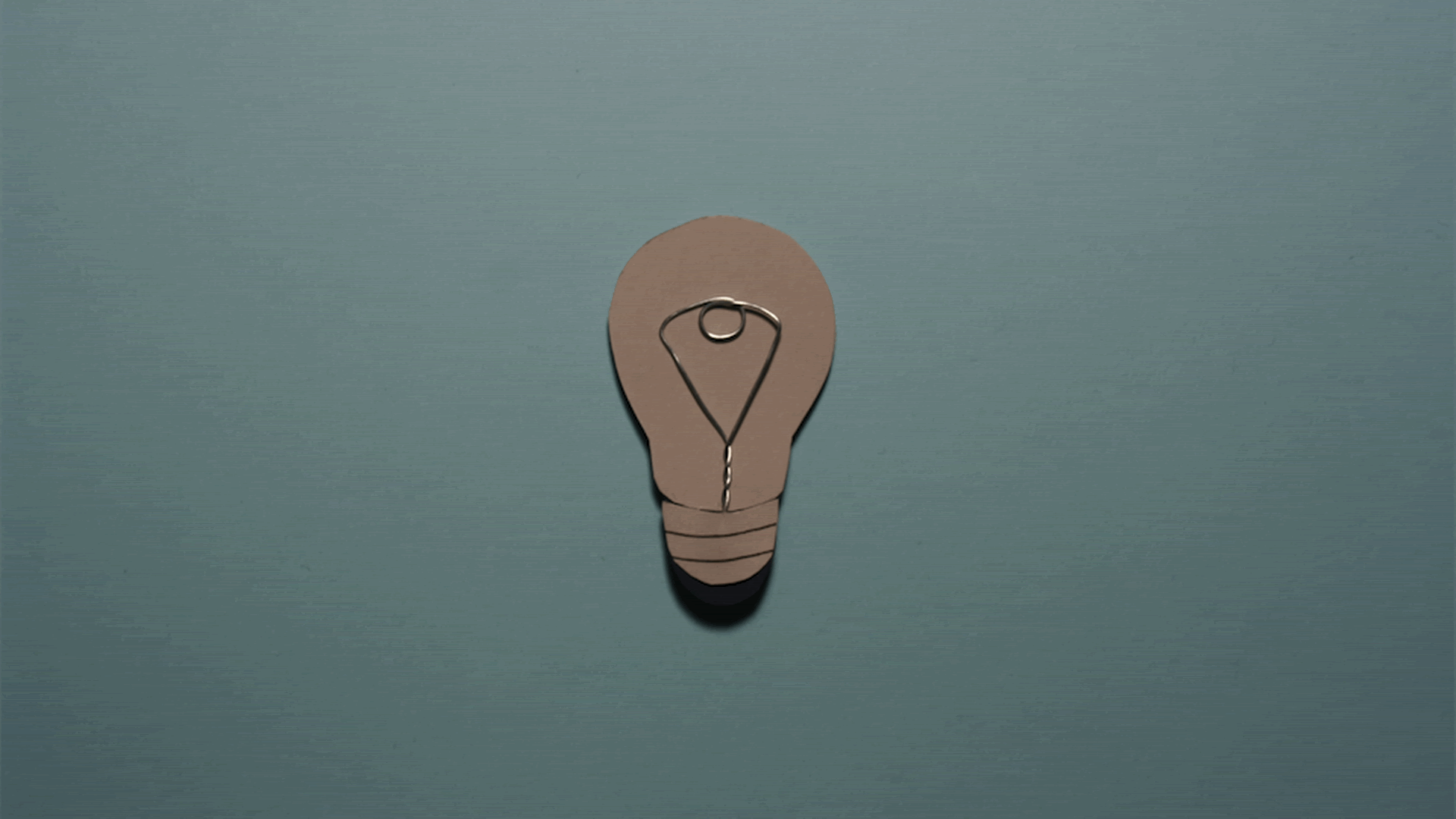 And this was the second shot which better conveyed our idea!
Moving on to the audio, we needed to find a narrator, so we held auditions in the office! After a few recordings, we decided to have Carrie Grove be the voice of A Sea of Solutions. The next step was to find the music that we wanted to accompany our animation. After searching the Internet, we found the perfect music at http://audionautix.com/. All that was left to do was to piece everything together and making the final edits.
Creating A Sea of Solutions was an awesome experience! I have never worked with cutout animation so it gave me a chance to explore the potential possibilities that this medium of animation had to offer. I am so thankful that TPI Solutions Ink gave me the opportunity to create something really cool for them and in a medium that I absolutely love!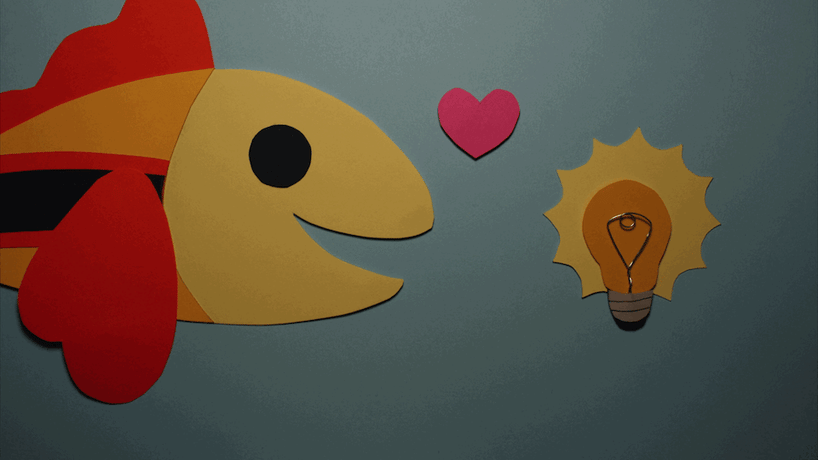 How do you like the video? We would love to hear your feedback! Be sure to check out Sara Capello's other work on her website: www.saracapello.com