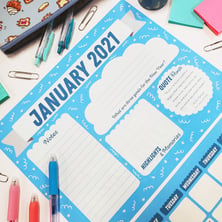 We've finally turned the page on 2020 and here at TPI Solutions Ink we are hoping and wishing for a better 2021 for us all! Our 2021 calendar design reflects our desire to focus on the positive this year. Each month has a section for notes, a spot to record highlights and special moments, a motivational quote and finally, a themed prompt to encourage goal writing and positive thinking for the month. Always look on the bright side of life!
Let's be honest, 2020 was quite the year, with many dark moments. While our graphic design team was brainstorming concepts for our 2021 calendar this summer, we came up with the idea of creating a design that would encourage people, on a monthly basis, to focus on moments of joy and positivity, not just on the bad stuff. You have to admit that there were moments in 2020, despite everything, that were good. Perhaps you had the time to finish a book you've been longing to read, or maybe you had a particularly funny zoom call that had you in stitches, or maybe, while working at home, you finally figured out which pet was eating your house plants! One very good thing that happened in 2020 was the approval of two vaccines for Covid-19, there is light at the end of this long dark tunnel!
The goal and our hope is that you will use our 2021 calendar to write down, on paper, the good things, those moments of joy, highlights and memories that happen throughout the year. When 2021 comes to an end you will have a memento that you can flip through, to remember and reflect on the bright spots and good times that you are bound to have in this new year. Happy New Year! Wishing you all peace and good health from the TPI Solutions Ink Team.

This year we've made our free downloadable calendar even easier to print at home at your convenience. Each month consists of two 8.5 x 11 pages.
Please don't forget to check back at the end of each month to download your new calendar page for the month ahead! Follow us on social media for reminders and news.