Everyone likes a little glitz and using metallics is a great way to add a little something extra to your printed pieces. We get inquiries all the time about how to best achieve the metallic look on paper. There are a few different ways to make it happen, each with varying costs and time constraints. This blog will explore some of the choices available to "go metallic" so that you can choose what works best for you.
Digital Printing on Metallic Paper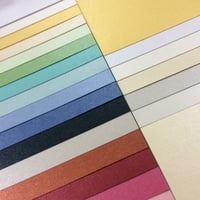 The fastest and most affordable option to get a fun metallic look is to print digitally in 4 color process (CMYK) on a specialty metallic paper. While the stock itself can be a little costly, digital printing is an immediate process that will allow you to see a proof of your printed piece before deciding to run the whole job. This is important when working with a specialty substrate since the paper itself will change the appearance of what's printed on it. Metallic papers approved for digital printing come in a wide variety of colors and finishes so your creativity will never be limited. The metallic aspect of the paper varies with ink coverage so it's great to experiment with different colors and textures in your design to see what results you'll get.


Offset Printing with Spot Metallic Ink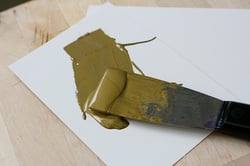 The second option you have to work with metallics is to print your design offset using a spot metallic ink. Pantone has a few metallic inks to choose from although they tend to remain in the gold, bronze and silver families. Traditional offset printing involves burning a plate with your images and text, then printing from that plate. Once this plate is created you cannot make any changes to the artwork. Offset is a more time consuming and laborious process than digital printing and usually comes with a more substantial price tag, however when printing in large quantities, offset can be cheaper than digital. There are also a lot of specialty textured papers that will run much better on an offset press than a digital press. It's a good idea to check in with your print provider to see what works best with their machines.
Foil Stamping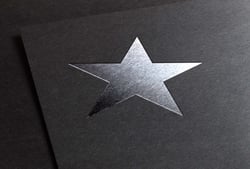 Foil stamping is another choice you have to get the metallic look. The foil stamping process uses a heated die to transfer colored foil onto the paper. This also adds a textural embossed element to your printed piece because of the pressure you apply to the paper. Because you have to create a physical die for foil stamping, there isn't any flexibility with the design once the die is made. You are also limited in terms of the foil color, check with your vendor to see what they have available so you can create your design accordingly.
Whatever option you choose, printing with metallics always ends up looking extra special. What's your favorite metallic printing technique? Check out another one of our specialty printing techniques in our white ink blog.