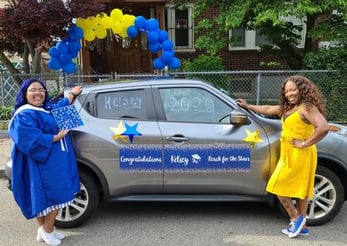 Social distancing due to the coronavirus pandemic has become the new norm, but major life events are still happening and we think they should be celebrated. So if you're looking for a way to spruce up your social distanced celebration events, then we've got the perfect thing for you! Whether you're celebrating a birthday or a graduation, a wedding or a new baby: what's better for a car parade than Celebration Magnets!
We want to help you make your special day even better! So take a look at our selection of car magnet designs for your next birthday car parade or other celebration. Don't see exactly want you are looking for? Contact us and we'll work with you to create exactly what you are imagining. Our large, high quality, printed magnets are great for all occasions: birthdays, graduations, birth announcements, weddings, retirements, and more!


Our magnets are made in the USA and printed right here in our shop in Waltham, Massachusetts. The magnetic sheets that we print on are manufactured in Marietta, OH and our magnet designs have been created by our TPI Solutions Ink graphic design and social media team.
Thank you in advance for supporting small businesses while we all do our best to innovate and adjust to the big changes that we all face today. We hope to help others find joyful ways to celebrate life's happy events, safely, during these difficult times.
Be well and stay safe!