The busy wedding season is right around the corner. At TPI Solutions Ink we have been busy printing custom Save the Date Cards, Wedding Invitation Packages, Programs, Table Cards and more. It's always fun to see the wonderfully creative designs that come through our doors. We are excited to work with our clients, old and new, on their custom designs, sometimes for their own wedding celebrations but often for the wedding celebrations of their clients. No matter the situation the end result is always a happy bride. You can't ask for much more than that!
Of course, the wedding invitations are probably one of the less stressful parts of planning a wedding. The most important part, especially in the eyes of the bride, has to be the selection of the dress, a task that Shelly Adams of www.SimplyBridal.com is very familiar with. Recently I received an email from Shelly sharing with me this fun infographic "Charm-ing Wedding Traditions". In honor of St. Patrick's day they put together, in infographic form, 8 lucky wedding traditions for the bride and groom. I think it's great and I am happy to share it with all of you.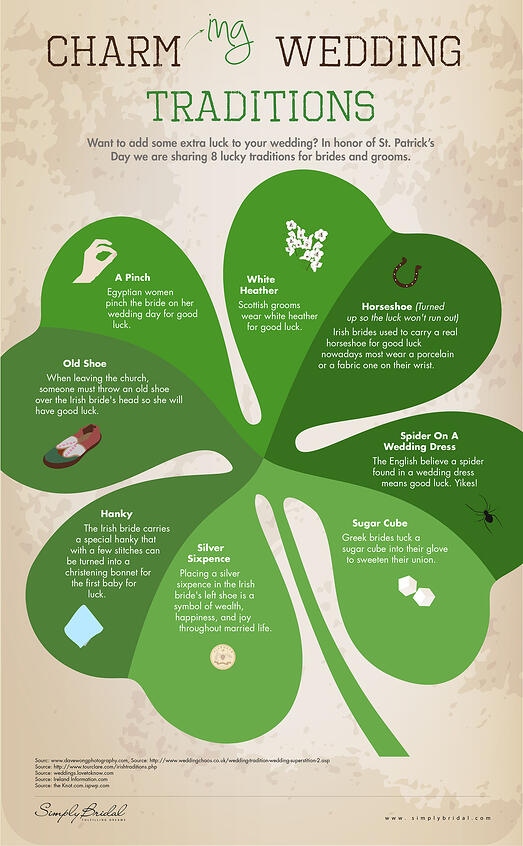 I have to say, I used one of these traditions at my own wedding. My husband's family gave me a wedding horseshoe to wear on my wrist for good luck, a British tradition. I guess it has done it's job since we are in our 23rd year of marriage!