I know that some people get irritated when they see multiple tweets, facebook posts, etc. containing famous quotes. I however don't, I like them. I enjoy reading those quick little tidbits of wisdom and inspiration from time to time. I may even have a magnet or two on my fridge with an inspirational quote printed on it. In a fancy, feminine typeface to boot!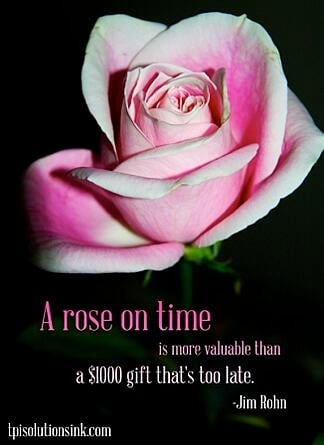 At any rate I did a little search today for some good quotes about business and customer service. Customer service is something that we take very seriously here at TPI Solutions Ink and we are proud of the many long term and trusting business relationships that we have developed over the years. So, I decided to pull together a list of quotes that would reflect our ideals on customer service. Here you go, in no particular order:
7 Quotes for Business Inspiration - Our Picks


"Always do more than is required of you." ~ General George S. Patton


"Here is a simple but powerful rule: always give people more than they expect to get." ~ Nelson Boswell, Author


"Do what you say you are going to do, when you say you are going to do it, in the way you said you were going to do it." ~ Larry Winget, Motivational Speaker, Author

"A rose on time is more valuable than a $1,000 gift too late." ~ Jim Rohn, Entrepreneur, Author, Motivational Speaker


"You'll never have a product or price advantage again. They can be easily duplicated but a strong customer service culture can't be copied." ~ Jerry Fritz, Educator


"Do what you do so well that they will want to see it again and bring their friends." ~ Walt Disney


"One customer well taken care of could be more valuable than $10,000 worth of advertising." ~ Jim Rohn, Entrepreneur, Author, Motivational Speaker
Do you have a favorite business related quote? Please share!