Twelve months. Twelve locations. Numerous artists.
A New Year calls for exploration and fresh creativity. Our 2017 Boston Street Art Calendar brings you more than visual pleasure and ways to remember all your relative's birthdays, it guides you to the locations of street art in and around Boston. The photography exposes you to public art that you may, or may not have known is right around the corner from you, and now it is just a calendar month away (or a flip of the page).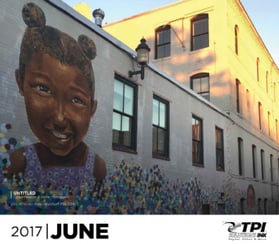 Boston is always providing new homes to public displays of art. Whether they live inside a museum, stand tall within a public garden, or blanket the side of a building, they are waiting for the every day attention that they deserve. From the nostalgic movie, Ferris Buellers Day Off, he simply explains, "Life moves pretty fast. If you don't stop and look around once in a while, you might miss it". Public art provides us with a momentary pause. It is there to inspire, cultivate creativity, and provide moments of solitude in our fast paced lives.
Our 2017 calendar aims to inspire you with a year full of creativity.
Each month provides a glimpse at public street art in and around Boston, Massachusetts. Locations include Somerville to Fenway and Roxbury to Waltham, the beloved home of our print shop TPI Solutions Ink. Much of my inspiration for creating this calendar comes from the pure joy of exploring a niche side of Boston. With a prior love for street art the process turned into an exciting journey with the goal of bringing street artists and their work into the spotlight through my photography and graphic design.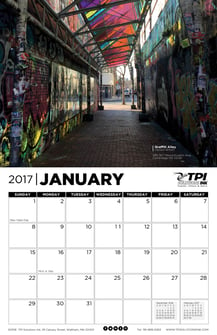 Street art is a raw form of expression that is both personal and collaborative. I constantly has myself, and many others, stopping in our paths and stepping back for a moment. Mehdi Ghadyanloo, an Iranian artist who is featured in our calendar and holds the cover spot, recently completed his mural, "Spaces of Hope", on the infamous wall in the Rose Kennedy Greenway. This is the fifth mural that Boston has brought forth to the community. Ghadyanloo speaks volumes in saying, "my aim was when people see my mural they think about something else other than their problems." He reminds us all of our shared humanity. He explains, "when you turn on the TV or look at social media, there's negativity everywhere. I think public art can counteract that." Let our calendar guide you to the location of this spatial illusion, along with a handful of other street art locations that you can seek out and experience for yourself (addresses are included!).
Our 2017 Boston Street Art Calendar measures 11" x 17", it was printed on our HP Indigo 5500 Digital Press on 100 lb. ChorusArt Silk Cover and it is wire bound at the top. Besides being beautiful to look at and touch, this calendar has large date blocks for writing notes and reminders. Each photo has location and artist information noted in the corner.
Be on the lookout for the monthly downloadable and printable version of the calendar pages, right here on our website. BUT, if you want something as solid as the walls that the street art was painted on, it can be purchased on our Facebook page. Cheers to a New Year!