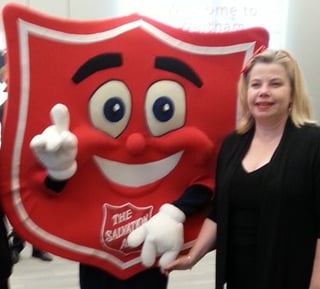 Throughout the year TPI Solutions Ink supports a number of different causes in a
variety of ways, through donations of time, discounts on and/or donations of printed materials, monetary donations and ads in fundraising programs to name a few.
As any small business we get many requests for help but unfortunately cannot
fulfill them all. One organization that we have always supported over the years is The Salvation Army.
This fall the Salvation Army in Waltham celebrated it's 120th anniversary! TPI was pleased to support the event with the donation of printed invitations reply cards and envelopes, postage and mailing services and programs for the weekend's culminating event, the Red Tie Gala. It was a lovely evening and the event raised over $63,000 for the Waltham Salvation Army's programs.
Participating in this year's celebration was a wonderful and eye opening experience. I had the opportunity to meet Lieutenants Thais and Rafael
Viana and learn more about the services the Waltham Corps provides to the community. The Waltham Salvation Army operates Our Daily Bread Food Pantry, Hope Kitchen and a fantastic after school program called the Kids FEAST Youth Enrichment Program. These programs make a huge difference for families and children in need. For more information on these local programs or to make a donation please visit their website http://massachusetts.salvationarmy.org/MA/Waltham.
This Christmas, in the spirit of giving and in honor of our clients and vendors, TPI Solutions Ink is sponsoring a family with three young children. We have provided the family with a turkey for Thanksgiving, a ham for Christmas and presents for the children. It warms our hearts to know that we will have added a little brightness to someone's holiday this year.
How will you or your company give back this holiday season? Please share your story and help to inspire others to pay it forward!