It's the most wonderful time of the year -- especially for print! Everybody loves getting a card in the mail. During the holidays we are lucky enough to have quite a few letters sent to our doorsteps.
"Merry Christmas!" "Happy Hanukkah!" "Season's Greetings!" "Happy Holidays!"
The messages are traditional, heartfelt, and ring true every year; however, let's take a moment to consider how those messages reach us. A traditional folded greeting card with a sweet illustration on the front? Or maybe a post-card style greeting with a picture of the whole family gracing the cover? Open up your mailbox with us, and see if you can spot any of our favorite Christmas card trends for 2017.

1. Calligraphy & Hand-Lettering:
This is probably one of the hottest trends for printed materials this year. I've seen countless videos on Instagram of artists practicing their calligraphy skills, and creating beautiful hand-lettered work. I'm definitely jealous of those talents -- but you don't have to be! There are hundreds of stunning typefaces that can add an authentic and personalized feel to your holiday cards. Some favorites, which are free for personal use, are: Setta Script, King Basil, and Noelan.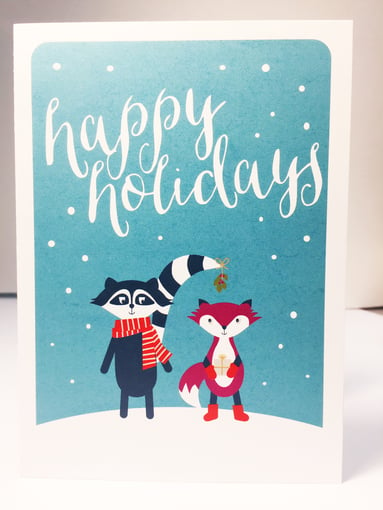 The typeface selected for this holiday card is perfect: whimsical, warm, and personalized.
2. Foil Stamping:
Add a whole new level of creativity to your holiday cards by including foil stamping. Traditional metallics are very popular this year in gold and silver, but don't be surprised if you see a little rose gold or bronze in the mix. Foil can make your lettering pop off the page, or lend a little extra holiday magic to your graphic designs.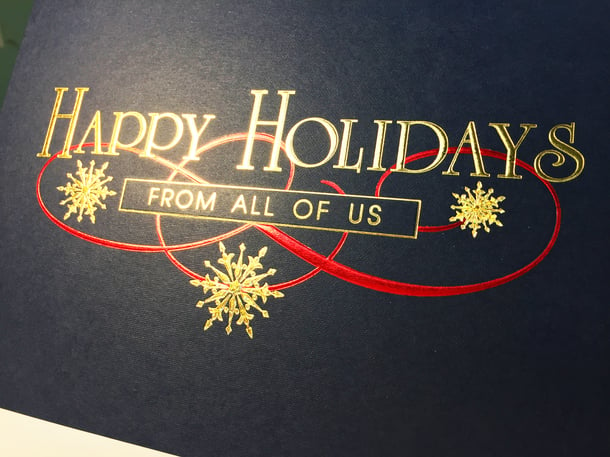 A beautiful example of foil stamping sent to us by our friends at McLaughlin Insurance Agency!
3. Rustic Illustrations & Watercolor:
Many Christmas card designs this year are featuring illustrations sourced right from nature. Evergreen firs, red berries, garlands of greenery, holly, and poinsettias are all seen in varying styles of design. This year our favorite designs feature flora crafted in a pen & ink style and are then filled in with beautiful watercolors. These holiday cards will often utilize a background in a neutral color palette. White, cream, charcoal, or navy work really nicely and allow the vibrant colors of the artwork to really stand out.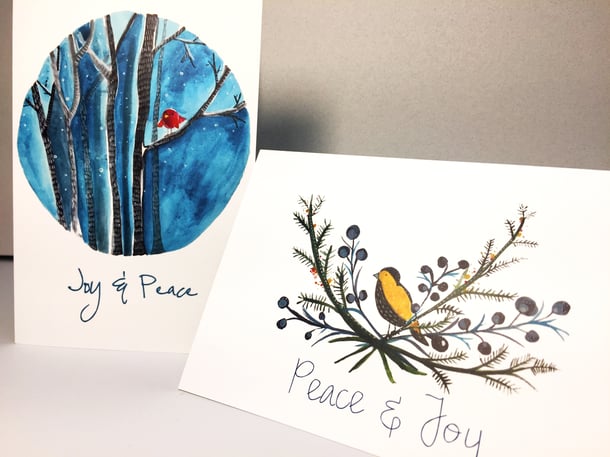 Local artist & illustrator, Jenny Schneider (above), creates a beautiful rustic holiday card through her stunning watercolors. We love printing her art! Felix Doolittle greeting cards are well-known for their precision and attention to detail. Always inspired by nature, these cards are are standout choices for anyone looking for a thoughtful way to wish someone a happy holiday.