It has been pretty hectic at TPI Solutions Ink over the last couple of weeks but well worth it. Our new HP Indigo 5500 Digital Press has been installed and is up and runnin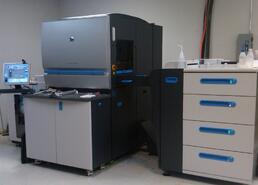 g!
Last month Dan and I took a trip out to Chicago and attended Graph Expo, a large scale printing industry trade show that happens annually. We made the decision to attend about a month prior to the event. Our goal for the trip was not to make a large equipment purchase, the goal was to research web-to-print software and to connect with others in the industry. We accomplished those goals, I am happy to say, and we made a large equipment purchase! Honestly, purchasing the HP Indigo 5500 was something we had been wanting to do for a while and I guess you could say that the "stars aligned" for us. we knew that this was the time to do it.
As many of you know we installed our first HP Indigo digital press back in 2005 then in 2008 we upgraded that first press and installed an HP Indigo 3050. The two old presses have now been removed, recycled and replaced with the HP Indigo 5500. So, what's so great about this new machine? A lot!
Our new Indigo uses the very latest technology, runs more efficiently, creates less waste and is more versatile. We opted to get all the bells and whistles on this press.
Here's a taste:
7-Colors
We can print seven colors. This is fantastic because our clients can now print a job in CMYK and have their own spot color printed as well.

White Ink
Yes, white ink. Why is this cool? White ink gives us the capability of using a larger variety of specialty substrates such as transparent, metallic and colored media for a wide range of unique applications.
I found this really cool video (above) created by HP showing how the 5500 works. Take a quick look. If you are familiar with the offset printing process you will see that Indigo presses operate similarly. The digital image is tranferred from the pip to a blanket and then to the substrate.
Have I gotten the creative juices flowing? I hope so! We would love to work with you on your next project and print it digitally on demand!