As was most of the world last week, I was sad to hear of the passing of Steve Jobs, co-founder of Apple Computer, at the age of 56. His vision and creative genius have made a profound impact on the world that we live in today and more specifically, in my world, on the pre-press side of the printing industry.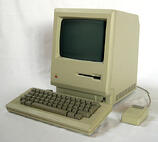 The creation of the personal computer really changed the way we all live our lives on a daily basis. The Mac changed the way we create graphic designs and layouts for print. The term "desktop publishing" was a result of the personal computer. Graphic designers with a Mac on their desktop no longer needed galleys of type to wax and paste up on boards. They could create and see their designs as they developed on their computer screen.
Today, graphic designers create files that are completely ready to print right at their desks. They send their print ready files to a trusted print provider and receive their completed projects quicker than ever before. This technology has also allowed non designers to create everything from business cards to books at home on their personal computer. (Great for the consumer, not always ideal for the printer, ha ha)
Steve Jobs will certainly be missed by the world. At least he leaves this world knowing that his "dent in the universe" is one that cannot be missed.
Check out this cool video timeline of the Mac Evolution.