Last week, before my family packed and headed off for our annual 4th of July escape, my daughter Hayley and I headed to the book store. We needed to be prepared, you know? Summer reading lists and all? We found Hayley's book pretty quickly but of course mom needed something fun to read too. Mindless reading is just one of the relaxing things I choose to do when I'm away from it all. Of course, I never quite leave the printer in me or TPI Solutions Ink far behind. Books are printed. . .right? Well. . .at least I'm still reading printed books. (I'm also thinking that an electronic book may not be so sensible on the beach, sand, water, wind and all but that's another subject!) At any rate, the commercial printer in me was bound to notice the flaw in the paperback that I was reading.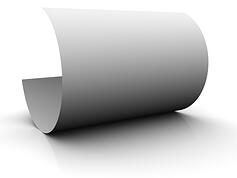 To be honest, I'm not exactly sure what went wrong with the printing of this book's cover. However, I first noticed it on the shelf, the curl. It was a new release in paperback and it sounded intriguing, great reading for the long holiday weekend. I noticed that the books at the front of the shelf had covers with a slight curl so I grabbed one from the back. Still had a curl but not as bad as the ones at the front of the shelf. Well, I realize now that it really didn't make a difference what copy of that book I pulled from the shelf, someone made a mistake.
As the weekend progressed and the heat and humidity increased so did the curl of my paperback's cover. I'd lay it down on it's front cover thinking that would help but then the back cover just curled. Was the humidity the culprit? I had to get Dad's opinion on this one. Jim's been in the commercial printing business all of his adult life, what was his take on this? Well we came up with a couple of ideas.
It's very possible that the coatings used on this cover stock caused it to curl. The cover definitely was gloss varnished as well as dull varnished. There are many factors in the coating process that can cause problems, I've listed a few below.
Paper not properly acclimated to press room environment.
Coat film is too heavy.
Coat film is non-uniform from edge-to-edge across the sheet.
Coating is too cold or inadequately mixed.
Paper substrate basis weight is too light.
Coating formulation not compatible with substrate resulting in quick and excessive moisture absorption.
Paper absorbs moisture too quickly.
The other thought we had was that the cover was printed on the stock going in the wrong grain direction. This would cause problems with paper curl as well. At any rate the high humidity definitely exacerbated the curling problem. I wonder if the publisher will be making any changes in the cover graphic design for future printings of this book.