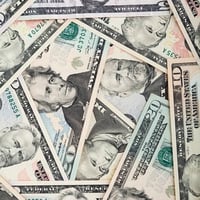 On a daily basis we receive multiple requests for printing quotes at TPI Solutions Ink. Some print projects are large, some are small, but the one thing that most projects have in common is a budget. It's important to know the capabilities of your print provider and it's important to know your project specs when requesting a printing quote so that you will receive the most accurate pricing at the start. There are many different factors that go into the cost of printing a job. This blog will explore 5 money saving tips to make your next print project both affordable and beautiful.
1. Know your print provider's digital press capabilities
What is the maximum press sheet size your provider can handle on their digital press? This is a question you'll need to have the answer to before you even begin to design your piece. The maximum press sheet size that we can print on our HP Indigo 5500 is 13" x 19" although the most common sheet size that we run on this press is 12" x 18". A 12" x 18" sheet gives us a printable area of 11.5"x17.5" including bleeds and a 13" x 19" sheet has a printable area of about 12" x 18" with bleeds. This is important to know because designing within the size constraints of the digital press you will be printing on will keep the project costs down. For example if your client needs 100 brochures and you have designed an 8.5 x 11 tri-fold with bleeds your press sheet size will need to be at least 26" x 12". (3 panels 8.5 x 11 = 25.5 x 11 flat size - with .125" bleed the print area = 25.75 x 11.25 - press sheet size must be larger than this) Because the quantity is small this should be a digitally printed job to be most cost effective. If your printer's digital press cannot handle this size (and the majority of digital presses in the market today handle the above mentioned sheet sizes) the job would need to be printed offset and for 100 brochures the cost would be outrageous. (Another option would be to seek out a larger digital press.)
2. Specialty papers can be pricey, try a house stock instead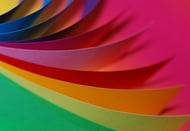 Find out what the "house" stock is at your local print shop. In most cases the house stock will be perfect for your project and using it will save you time and money. Specialty papers look and feel great, but they can be very expensive and often times not readily available. Some specialty stocks must be purchased in full cartons and this may not be cost effective for short digital runs. Instead of using a solid color specialty stock consider adding large solids and full bleeds to your graphic design. This can be a cost effective way to get a similar look and feel. If you are on a tight budget take your printer's advice and use the sheet that they recommend and have on hand. Still not sure? Ask for samples on the house stock. I think you will be pleasantly surprised.
3. Think about the final application of your printed piece

Will your piece be mailed? Can you get away with a slightly smaller cut size? Take these things, and more, into consideration when creating your digital print piece. If you're creating a design for the mail, consider making it a self-mailer instead of using an envelope, cutting out a printed envelope can be a money saver. When designing that self-mailer just be sure to follow USPS postal regulations to avoid additional postage or returned mail. Ask your printer for help with this if you are not sure.
Another way to save is to adjust the final trim size of your document. For example changing the size of a 6" x 9" postcard to 5.5" x 8.5" could make a big difference in the price. A 5.5" x 8.5" card with bleeds can be printed 4-up on a 12" x 18" sheet but a 6" x 9" card with bleeds can only be run 2-up on a 12" x 18" sheet. Creating a card that can be printed 4 or 6-up on a sheet rather than 2-up will shorten press time and save on paper costs.
4. Digital printing means CMYK, stick to it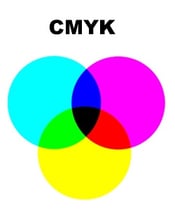 CMYK is the color mode you work in when dealing with digital print. CMYK stands for Cyan, Magenta, Yellow and blacK, the ink colors used in 4 color process printing. PMS or spot colors are premixed inks that are traditionally used in offset printing. Some spot colors can be achieved in CMYK, others can not. Our HP Indigo does have the ability to print 2 additional spot colors, however adding a spot or two to your job will significantly increase the price. If you want to cut costs even further, printing in black ink only will make the price drop even more.
5. Work with an experienced print provider

A good print provider will always be willing to work with you. They know their business best and they will be able to help you get the most for your money. If your printer is not willing to problem solve and be a solutions provider it's time to find someone new. Ask questions, and be open to suggestions about how to best work within your budget. Be sure that you're prepared with complete job specs when you ask for a quote in order to get the most accurate price possible. Be clear about your budget contraints and the end use of the printed piece and ask for recommendations on ways to save.
We hope you've found this blog helpful and informative. Be sure to take the ideas listed here into account the next time you seek out a printing quote. What is your best tip for saving money on digital print? Please share below!