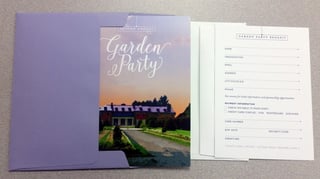 What's on press at TPI Solutions Ink this week? Garden Party Invitation Packages, graphic design by Liz Abbate of Someone Creative in Waltham. The invitation is a 5 x 7 folded card with a 4.5 x 6.25 flat RSVP card, printed on 100 lb. Cougar Cover on our HP Indigo press. The violet A-7 envelopes and white A-6 reply envelopes were printed in PMS 281 on our Hamada offset duplicator. The outer envelopes were addressed with variable data supplied by the client. Our team then stuffed, sealed and delivered the invitations to the client who chose to apply the postage and mail on their own.
Do you have an event coming up? We would be happy to give you a free quote on your project.
Thank you to Audionautix for the sound track to this #WhatsOnPress.
Are you inspired by the typefaces used in this project?
Check out our #TypefaceTuesday blog to liven up your typeface library!