Think TPI Solutions Ink for your Wedding Printing & Design Needs!
TPI Solutions Ink is a family owned and operated printing company in Waltham, MA. We offer a wide variety of
graphic design and printing services that will make your special day even more . TPI has been working with local brides and grooms for many years and we would love to work with you! From initial save the dates to day of ceremony and reception pieces, we've got you covered. Some of our wedding specific services include:
Invitation Packages
We can print everything from invitations and reply cards to envelopes and day of programs and menus.
We customize each invitation package to fit your wedding and your budget.

Addressing and Mailing Services
Not sure how to go about addressing your invites? We can print all of your addresses directly onto your envelopes.
We'll even match the font to your invitations so everything has a cohesive look.
Specialty Papers
Want to make your wedding printing really stand out? Ask us about
our wide variety of paper finishes including felt, linen, metallic and pearlescent.

Posters & Large Format Printing
Wow your guests with an extra big printed piece. Blow up an engagement photo or create a guest book poster
to add a great statement piece to your reception.

Graphic Design Services
We'll work with you to create a look you'll love. From custom logos and monograms to illustrations and typesetting,
think it up and we'll create it for you!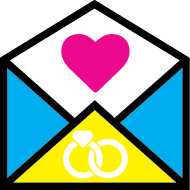 Get in touch with us today to find out how we can make your wedding extra special with print!
Give us a call: 781.899.0263
or fill out the form below and we'll be in touch.