Well, how times do change!
When I started in business, over 45 years ago, if a client asked for white ink on a black or dark stock we would have had to get the piece silk screened, foil stamped or say no to the project. There was really no way to print it offset. At that time it would have taken several weeks to get the final project back from the silk screen printer or foil stamping shop. And, using those methods of print, forget printing fine type or hairline rules they just did not print well and almost always the client would be disappointed with the results.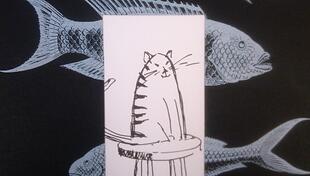 But, today times have changed! With our HP Indigo 5500 digital press we say, "white? how white do you want it?" Yes, we can print white ink today on very dark stock and even on clear and foil substrates. We can even print a full color image on a dark material using the white ink as a base. The HP Indigo press is just so versatile that we can print on almost anything. I am continually amazed at the quality of work that we are able to produce on this machine and I enjoy offering these great options to our clients.
For more information on printing with white ink please give us a call.